In a garden on an unnamed road, off another unnamed road off Highway 1 in San Juan, icaco trees are beginning to bloom.
The icaco — Chrysobalanus icaco, which sprouts an edible plum that contains its seeds — is one of the 120 species of trees native to Puerto Rico that are growing here in Para la Naturaleza's native tree nursery. PLN, a branch of the larger nonprofit Conservation Trust of Puerto Rico, manages 32,000 acres of protected land throughout the island. This tree nursery is one part of their programming.
Trailer trucks on the outskirts of the grounds house staff offices, among them the office of Luisa Rosado, the PLN reforestation manager. The trees grow just beyond the trucks, in several enclosed and open-air garden-like plots that serve as a sort of step-by-step early-stage development site for the germinating seeds.
PLN began the reforestation program in the early 1990s, says Rosado, in response to Hurricane Hugo, which hit eastern Puerto Rico in 1989 and caused severe crop damage.
The weather on this Thursday is anything but stormy. The air is heavy, temperature upper-80s, and the sun is beating down relentlessly. That's more than the brand-new icacos can handle, which is why they and the other sprouting seedlings live the initial stages of their lives under a tinted screen roof. Once they've grown a couple feet, they move to the gardens outside, and eventually they're replanted.
Not only can native trees revitalize deforested areas, but many can provide significant flood protection too. For example, Puerto Rico has four native species of mangrove, a wetland tree whose roots, once fully grown, are massive and tangled. They trap flood sediment and slow down water before it inundates areas further inland. Leonor Alicea Rodríguez, who helps oversee the PLN-managed Cabezas de San Juan nature reserve about 50 kilometers east of the nursery, says that because of decades of urban development, San Juan has lost natural flood barriers like the mangroves that are abundant at Cabezas de San Juan. So the flooding in the capital city likely causes more damage than it would if developers had maintained that natural infrastructure.
Rodríguez and others at PLN view native trees in general as one of the strongest defenses against the elements. While PLN's reforestation work doesn't focus just on disaster risk reduction, Rosado says it's one of the benefits of the work. Particularly in the wake of storms like Hurricane Maria last year, municipal governments will be looking to install more green infrastructure that has the ability to prevent damage, she says. Plus, a conversation with community members about native tree planting can open the door to other topics, like how trees benefit water supply and protect wildlife.
Rosado and her team have aimed in past years to plant 5,000 native trees annually. After Hurricane Maria, which caused far more damage than the hurricanes Puerto Rico normally gets, Para la Naturaleza doubled down on its native tree efforts — or, more accurately, sextupled them. By May, they've planted 5,723 trees this year toward a goal of 30,000 for 2018. They plant them throughout the island, in areas cleared by the hurricanes and, really, anywhere, says Rosado — schools, public plazas, farms. She adds, though, that before her team goes ahead and plants, they first assess the needs and opportunities on the land, in terms of biodiversity, disaster risk reduction and past vegetation that has thrived there.
And they don't plan to stop at 30,000. PLN wants to plant 750,000 native trees between now and 2024.
Like PLN's other projects, volunteers play a major role in this work. Volunteers include students here for school, who often bring their parents and other family members; organizational groups like the Boy Scouts, for which conservation is part of their focus; and people who simply enjoy planting trees. "People love to plant," says Rosado. "It is incredible."
A small group here today on a Baha'i volunteer outing grate the icaco fruits on mesh wiring to separate the seeds for planting. Those seeds are gathered by staff, who also collect fallen tree wood left over from the hurricanes. In the future, they hope to use the "rescued" wood, for example the extremely hard wood of the ausubo tree (Manikara bidentata), for community rebuilding and restoration after storms like last year's.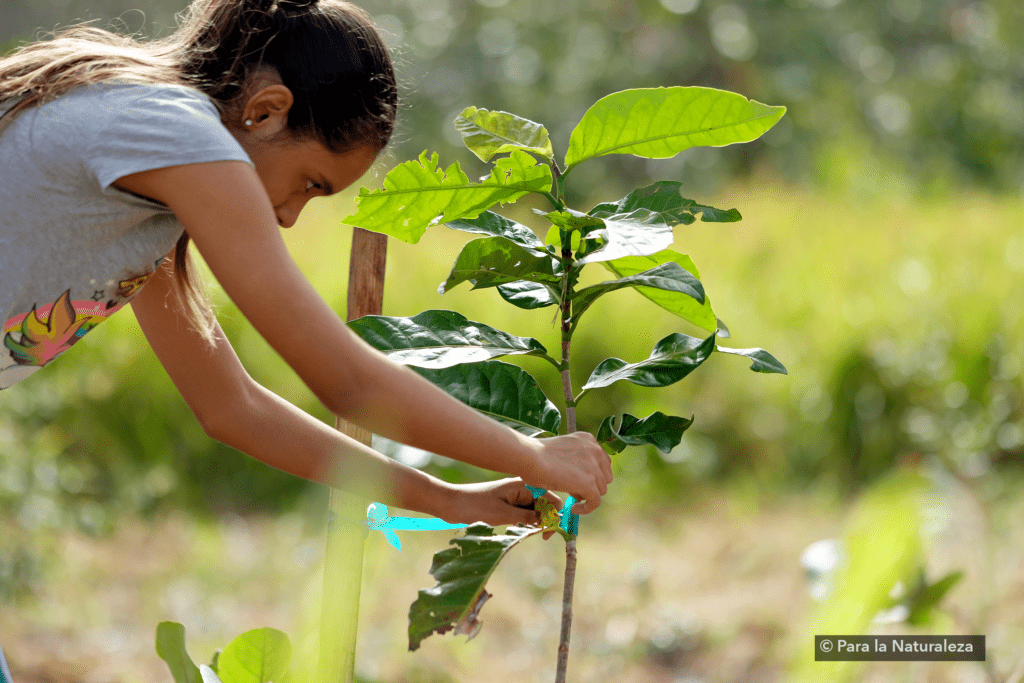 Planting is a relatively quick task, and PLN staff help new volunteers learn it in just a few minutes at the beginning of their planting trips. But there are things one must consider, like, for example, the way the soil is packed together; air bubbles could block the flow of water into the roots. Then, of course, the 15 or so minutes it takes to plant the tree is little next to the decades — then centuries — during which these organisms grow.
And a two-foot-high seedling at PLN's nursery is far different from the multistory behemoth it might become. Granted, trees are pretty independent once they're up and running, but they do need tending sometimes, especially when they're first growing and sharing soil and water with other nearby trees. Shortly before the hurricanes last year, Rosado and her team decided it would be good practice to monitor the trees they plant and distribute. They haven't put in place the exact system yet, but they do know it will take a lot of communication with their partners, both citizen planters and organizations.
Rosado notes that many residents she talks to in Puerto Rico are less enthusiastic about trees after seeing the destruction caused by toppled trees during Hurricane Maria. It's a somewhat conflicted perspective, since people are aware at the same time of how drastically the hurricane changed the landscape — forest canopies erased, piles of tangled fallen trunks, dented animal populations.
To her mind, people have an opportunity now to learn how to plan and plant effectively, and organizations like PLN have the opportunity to show them how. That seedling could look nice in the yard right next to the house, but it could be a problem once it grows to its full size, as people often discover during hurricanes. PLN holds a fair each spring in the San Juan region where they give trees, along with planting instructions, to community members. This year, staff distributed about 2,400, a decrease from last year's 7,000 that Rosado says is due to the hurricanes.
A PLN website takes users through the process of planning and planting, with help on how to select the right tree from a catalogue of 90 native trees that staff have deemed are suitable for amateur planters.
Rosado shares an app currently in development, where users can record the native trees they plant, tracking their status and adding them to a database that will cover the whole island. The app, called Hábitat and planned to launch later this year, will also be useful for staff to track the trees PLN distributes, she says.
Readers may be familiar with eBird, the app for bird watchers to record the birds they see. It turns out PLN helped develop Puerto Rico eBird, and Rosado sees this new app as an eTree of sorts. It's all part of trying to shift the mindset, of trying to get people to view these living things as alive in the same way as any bird or other animal, or person.
"We live together," says Rosado, who points out that it will be future generations that enjoy the benefits — and by the same token, bear the consequences — of the seedlings she and others plant now.
She recently planted an icaco tree in her own front yard, a gift to her husband, who has long wanted one. He has plans of his own, she says: The trampoline in their front yard shades the ground beneath it in the same way the screen roofs at the PLN nursery shade the young tree seedlings. He wants to start his own native tree nursery under the trampoline.