You can grow your own food in a garden, but some people take it to the next level.
Among them are the people of Norfolk, Virginia, who in December installed the city's first food forest. The small forest's pomegranate, elderberry, papaw and chocolate persimmon trees (to name a few) are the first step toward what residents hope to be a food source and flood mitigator for years to come.
Right now, just over half a year since the first tree planting, they're hoping mostly that they get fruit on the trees and that the forest absorbs rainwater like it's supposed to. It will take some time to determine if it will mitigate flooding as intended, but Jen Stringer-Kelly, who helped lead the project along with fellow members of the Northside Civic League, believes it will have an effect. After heavy rain in June, the soil seems to be absorbing the water well, and the fig tree has produced new figs.
By the civic league's calculations, the food forest should absorb about 1,000 gallons of water in a year. Though formal studies haven't determined how much rainwater is expected in that area, on the grounds of Mary Calcott Elementary School, Stringer-Kelly says that number is significant. Still, she says, "It's this one little area. It would be better if we could do a number of them across the city."
Norfolk, located on the south end of the Chesapeake Bay, is surrounded by water on three sides. Already flood-prone, rising sea levels make flooding an increasingly pressing concern for the city. It's one issue addressed by Norfolk's Office of Resilience.
The resilience office recently began a grant program, called Retain Your Rain, to fund community group-led projects that will help the city adapt to flooding. Recalling a food forest seminar she read about two years ago, Stringer-Kelly, the civic league membership chair, wondered if there might be potential for a food forest in Norfolk.
With that idea, she and the other league members applied for a grant in late 2017. They won it, and with a year-end deadline to use the money, they and 60 community volunteers ended up on a mid-December Saturday at Mary Calcott, where they planted six trees, two shrubs and 14 fruit vines to start the forest. They chose the roughly 7,200-square foot patch of land on the south side of the school because it lacks a storm drain and often pools with rainwater, says Stringer-Kelly.
To design the forest, she and the civic league used guidelines from a Virginia Tech Ph.D. researcher named Catherine Bukowski, who also co-wrote a handbook on the subject. Other design support came from the Virginia Tech Cooperative Extension and the local botanical garden.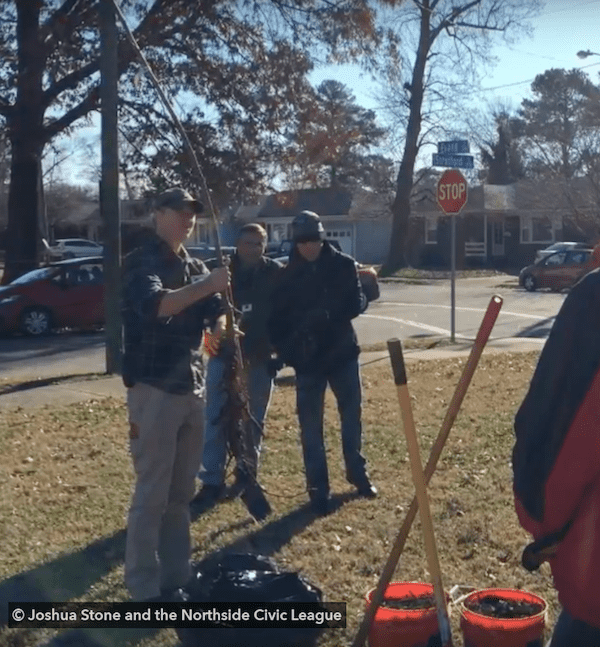 Food forests are a nascent if growing trend, part of the permaculture movement. There's no definitive set of instructions on how to make a food forest. But they have several defining characteristics.
First and perhaps most obvious, they produce food. This is an especially valuable benefit in communities where food shortages are frequent.
Second, they can help prevent flooding, as soil and tree roots absorb excess water.
And finally, food forests resemble full-fledged forests, which means that unlike typical gardens, they are largely self-sustaining ecosystems that require minimal care.
This last factor was important to the civic league. The city doesn't have the capacity to devote time and personnel to the project, but with a food forest, the city doesn't have to do that. The minimal tending that the forest does need comes primarily from the Therapeutic Recreation Center next door. The TRC, which serves people with disabilities, sponsors a gardening program with its clients, who provide water and weekly maintenance for the forest.
The food forest also happens to be a useful educational tool for the elementary school students, says Stringer-Kelly. Their standardized tests require them to understand how ecosystems work, and having this right outside their classrooms gives them a real-life example to learn from. The plan is to have fifth-grade students make signs telling visitors what fruits grow on the trees, how those fruits can be used and how to tell when they're ripe.
And this is just the beginning, she says. With additional funding, the civic league wants to plant root vegetables, fruit bushes and children's gardens, where kids can plant vegetables, care for them and eventually take them home.
Teachers at the school also see room for more opportunity, says Stringer-Kelly — everything from providing fruit in the lunchroom, to teaching children how to compost, to installing a weather station in the forest.
The grant that the civic league won was the first one awarded by the resilience office through the Retain Your Rain program. Retain Your Rain also serves as an online resource for local residents to learn how to implement environmentally responsible rain retention measures in their homes and yards.
This spring, the office awarded the program's second grant to a local urban farm that uses roof rainwater to water its crops.
"What we found in Norfolk is it really takes communities to step up," says Stringer-Kelly. The food forest required a lot of work in a short time, "but overall it's not very labor-intensive."
The benefits from projects like this add up and make a difference, she says. "If every community group could really do one thing to help the resiliency efforts over the long run, the impact could be amazing."