Sri Lanka's plantation managers are rethinking how they deal with flooding on their land and the land downstream from their plantations.
Although it can take time to develop a full-fledged plan, after a recent workshop on the principles found in WWF's Natural and Nature-Based Flood Management: A Green Guide (the Flood Green Guide), they seem to be on the right track.
Privately managed plantations make up about 5-10 percent of Sri Lanka's 25,300 square miles (65,600 square kilometers). But many plantations are based in the south and southwest regions of the country, areas that span Sri Lanka's highest and lowest land. This broad elevation range means managers must account for multiple flood-related risks, from water inundating their fields to landslides caused by floods. And constantly fluctuating climate conditions make the damage caused by these events even more difficult to predict.
"Things have changed recently quite a lot, and I think we need to adapt to these changes," said G.N. Ratnayake, the deputy general manager at Horana Plantations. Both floods and droughts have destroyed crops, he said, and landslides have destroyed property and taken lives.
In late August 2018, Ratnayake and other Horana plantation managers attended a workshop organized by the University of Sri Jayewardenepura and WWF in one of the company's plantations, about 28 miles (45 kilometers) southeast of Sri Lanka's capital city, Colombo.
After outlining the effects flooding has on Sri Lanka's plantations, Dr. Upul Subasinghe, a lecturer at the University of Sri Jayewardenepura, and Dr. Missaka Hettiarachchi, a WWF fellow based in Sri Lanka, led the 28 participants through a two-part simulation. During the first part, participants — in groups with other managers from their plantations — evaluated their own land's flood risk by mapping out their estates.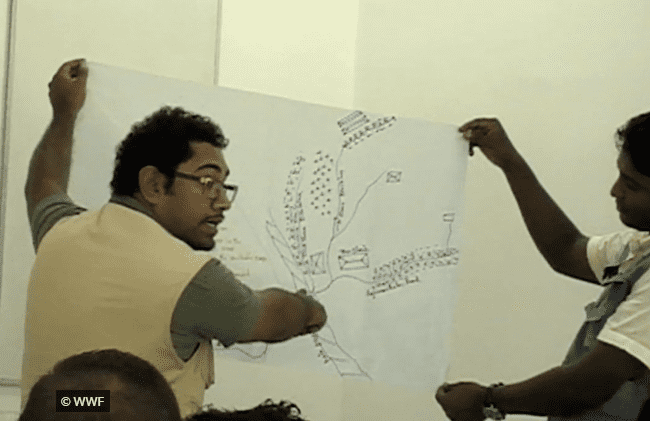 These risk assessment maps, part of a broader assessment process described in the Flood Green Guide, helped participants understand where in the watershed they're located and what management methods, both nonstructural (like land-use planning) and structural (like wetland restoration), they might use to prepare for floods.
All watersheds are different. A combination of natural features like soil type and precipitation levels, as well as human-made infrastructure, make it difficult to generalize the risks communities face without looking at their specific locations and what they've experienced historically. Furthermore, even within a watershed, risks in the uppermost land can be much different from those in the lower valleys.
Therefore, an effective flood plan requires more than just construction. Even if managers choose nature-based methods to protect against flood damage, those methods won't be successful unless managers consider many factors, from the potential long-term environmental effects their building materials might have on the community, to the risks and needs of the community's most vulnerable members. It can be a daunting task at first, but in the long run, developing a comprehensive plan based on an understanding of both flood risk and flood management options can save a lot of time, resources and lives.
After participants evaluated their flood risks and considered potential nature-based methods they might use to respond to them, Subasinghe and Hettiarachchi had them determine specific flood risk management (FRM) objectives for their plantations and communities. FRM objectives are most effective when they're specific to a given problem and are measurable. Effective FRM objectives also go beyond reducing inundation and seek to address multiple health, social and environmental risks of flooding.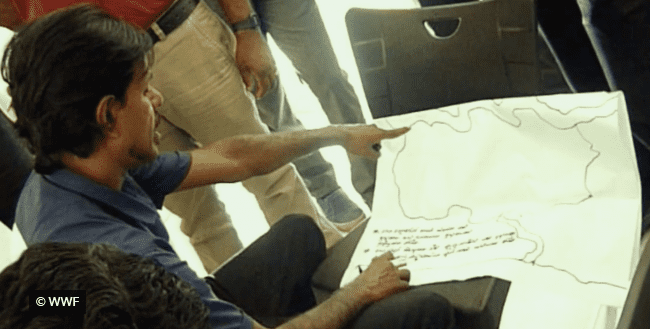 Normally, setting objectives comes before choosing which nonstructural and structural methods to use. But in the case of a one-day workshop like this one, the goal isn't so much for participants to formulate an entire plan, but rather to identify flood management methods they may be able to incorporate into their future comprehensive plan.
Reducing flood inundation levels within a plantation depends on actions taken upstream of that plantation by, for example, government officials and community members. In other words, plantation managers have limited ability to structurally reduce inundation within their plantations. Therefore, nonstructural methods such as flood proofing schemes for buildings, flood preparedness plans and warning networks usually take priority when managers form their FRM objectives.
However, managers can apply structural methods within their plantations — such as soil conservation, watershed restoration and riparian restoration — to reduce run-off and erosion, which can directly contribute to reducing inundation downstream of plantations. Incentives that government agencies offer to plantation companies to use these methods should be determined by broad watershed-level FRM planning.
The workshop concluded with a discussion on next steps. One of those next steps will be to bring Sri Lankan government officials into the flood planning process with a one-day Flood Green Guide workshop for them, similar to the one for the Horana employees. Some of Horana's land will also become test sites for the green structural methods discussed at the workshop.
Those green methods are especially appealing because they're relatively easy to implement, Subasinghe told Hettiarachchi in an interview following the workshop. Structures like traditional concrete dams are usually the product of large-scale institutional work, he said, while anyone — from individuals to communities to the entire national government — can, with proper guidance and support, use natural methods to construct flood management projects.
The Flood Green Guide provides guidance on tools and methods, and it does so in easy-to-understand language, he said. It provides the overall framework for local and regional community members to develop their own specific flood management plans. "It is basically for everybody," said Subasinghe.